Custom House Maritime Museum- pass good indefinitely, Bearer of the pass receives 1 pass for two people. This is not good for special events. Summer hours: Tues-Sun: 1 pm-5 pm. Winter Hours: Thur-Sun 1p-5p or by Appointment call 860-447-2501.
Denison Pequotsepos Nature Center- 1 pass for admission for up to five people. 7/31/23. Access to Nature Center Museum and live animal exhibits, including amphibians, reptiles and birds of prey.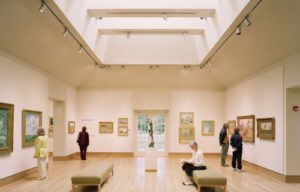 Florence Griswold Museum Library Pass- 1 pass expires 12/31/23. This pass admits 2 adults and 2 children under 12 into the museum. May not be combined with other coupons or passes. Does not include special event fees when applicable. Please note that Florence Griswold Museum charges an event surcharge of $5 per person over 12 (even with free pass) during our special fall event Wee Faerie Village (dates vary yearly). This charge is applied whether visitors intend to see the faerie houses or not. Children under 12 are admitted free thanks to an anonymous grant.
Lyman Allyn Art Museum– 1 pass to be renewed. Free Family admission. Admits 2 Adults and 2 Children (children 12 and under are always free.)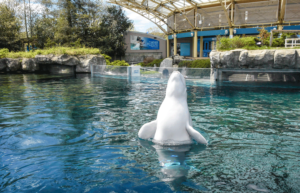 Mystic Seaport Museum- 7 day- specific passes, expires on 7/31/23. 50% off admission for 2 Adults 3 Children. ("Specific day" pass means you must check out a pass for "Friday", if you are going on a "Friday")
CT Passport to the Parks Program: Please note that as of January 1, 2018 there are no longer parking fees at state parks and forests for CT residents, as all CT registered vehicles are allowed in without a fee.
There are still entrance fees to the museums and historical buildings at Dinosaur State Park in Rocky Hill, Gillette Castle State Park in East Haddam and Fort Trumbull State Park and Visitor Center in New London.
For a listing of State Parks: http://www.ct.gov/deep
Thanks go out to our Friends of the Preston Library, an organization which has purchased many of these passes for our patrons to use with their library card. There is no charge to use the passes; some provide a discount and some will allow free admission depending on the venue.
Passes Donated by Preston Youth Services:
Preston Youth Services has donated passes to the Library for library card holders. Listed below are the passes the Library has currently received. Please check back as more passes come in! Thank you Preston Youth Services!
Boston Children's Museum: -admission is half price for up to 4 people.
The Museum is open on Wednesday, Thursday, Friday, Saturday and Sunday. For Summer 2022, beginning Monday July 4th, the Museum will be open Monday – Sunday, seven days a week, for the months of July and August 2022. Our hours will remain as they are, 9:00 a.m. – 12:00 p.m. and 1:30 p.m. – 4:30 p.m.The Museum will revert back to Wednesday, Thursdays, Friday, Saturday and Sunday in September 2022 beginning on Tuesday, September 6th.
Boston Children's Museum is closed each year on Thanksgiving Day and Christmas Day. These dates have been excluded from your coupons.Museum's schedule is subject to change.
Concord Museum, Concord MA: Admits up to 4 at $5.00 off each. Expires 6/30/23. Visit www.concordmuseum.org for more information.
Ecotarium: Library Coupons valid for reduced general admission to the museum for up to 2 adults and 2 children. Children under 2 years of age free admission. Back of coupon needs to be filled out before using pass. Coupons do not cover the cost of tickets for Alden Digital Planetarium, the Explorer Express Train, or special ticketed events. For more information visit http://www.ecotarium.org.
Institute For American Indian Studies: half-price admission and 10% Off Gift Shop Items. Admission prices when using the Library pass will be $5.00 for Adults, $4.00 for Seniors, and $3.00 for Children under 12. Children under 3 are free. Open Wednesday-Sunday 11:00 am to 4:00 pm. visit http://www.iaismuseum.org for more information.
Kids Play Children's Museum: Pass valid for half-price admission to museum for up to 6 family members (General admission is $10.00 for adults and children). For more information visit http://www.kidsplaymuseum.org.
Mashantucket Pequot Museum: Library pass is good for 4 free regular admissions tickets (up to 2 adult tickets and 2 youth tickets OR 1 adult and 3 youth tickets. Unlimited free admission for children under 6; 10% discount at the museum shop. For more information visit http://www.pequotmuseum.org.
Museum of Science (Boston Museum of Science): Library pass allows up to 4 people per day for 50% off regular ticket prices to visit the Museum's main exhibit halls. One pass is available to the public per day.
Providence Children's Museum: Pass admits 4 people at 50% discount. For more information visit https://providencechildrensmuseum.org.
Sacred Heart University's Discovery Science Center & Planetarium: free admission for up to 4 children with 1 paid adult. Does not include adult admission to the Planetarium or Demonstrations. Expires June 20, 2023. Visit http://www.shudiscovery.org for more information.
Stamford Museum & Nature Center: admission for one family (2 adults and children of the household) at a time to visit the Museum. Patrons can also receive a 50% discount on admission to all Family Festival Sundays and a discount in the Museum store. Expires June 21, 2023. For more information visit http://www.stamfordmuseum.org.
Wadsworth Atheneum Museum of Art: Free general museum admission for 2 adults, ages 18 and up. Youth 17 and under are free. Not valid for ticketed programs, group tours, or with other discounts. Additional fees apply during Fine Art & Flowers and Festival of Trees & Traditions. Does not apply to films or special event ticketing. Expires December 31, 2023. For more information visit http://www.thewadsworth.org.
Worcester Art Museum: 50% off the admission fee. Each card may be used for up to 2 adults and/or children. Children 17 and under are free. Also includes use of the Museum's Library free of charge. Not valid for other applicable discounts on special programming or lectures. Not valid for Flora in Winter or other special events. First Sunday of every month is Free Admission. Visit http://www.worcesteart.org for more information.