Custom House Maritime Museum- pass good indefinitely, Bearer of the pass receives 1 pass for two people. This is not good for special events. Summer hours: Tues-Sun: 1 pm-5 pm. Winter Hours: Thur-Sun 1p-5p or by Appointment call 860-447-2501.
Denison Pequotsepos Nature Center- 1 pass for admission for up to five people. 7/31/22. Access to Nature Center Museum and live animal exhibits, including amphibians, reptiles and birds of prey.
The Eric Carle Museum of Picture Book Art – 1 pass, expires 7/29/22. Free museum admission for 2 adults and up to 4 children. Also, a 15% discount in the museum shop.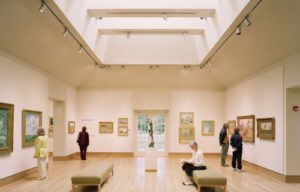 Florence Griswold Museum Library Pass- 1 pass, expires – 12/31/22. This pass admits 2 adults and 2 children under 12 into the museum. May not be combined with other coupons or passes. Does not include special event fees when applicable. Please note that Florence Griswold Museum charges an event surcharge of $5 per person over 12 (even with free pass) during our special fall event Wee Faerie Village (dates vary yearly). This charge is applied whether visitors intend to see the faerie houses or not. Children under 12 are admitted free thanks to an anonymous grant.
Lyman Allyn Art Museum– 1 pass, expires 7/31/22. Free Family admission. Admits 2 Adults and 2 Children (children 12 and under are always free.)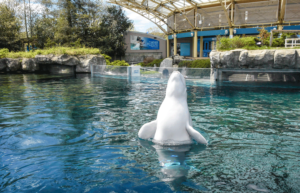 Mystic Seaport Museum- 7 day- specific passes, expires on 7/31/22. 50% off admission for 2 Adults 3 Children. ("Specific day" pass means you must check out a pass for "Friday", if you are going on a "Friday")
Niantic Children's Museum– Pass admits up to 4 people at half price. Expires 12/31/22.
Slater Memorial Museum at the Norwich Free Academy– Museum is currently closed for roof repairs and is scheduled to re-open in September 2022.
CT Passport to the Parks Program: Please note that as of January 1, 2018 there are no longer parking fees at state parks and forests for CT residents, as all CT registered vehicles are allowed in without a fee.
There are still entrance fees to the museums and historical buildings at Dinosaur State Park in Rocky Hill, Gillette Castle State Park in East Haddam and Fort Trumbull State Park and Visitor Center in New London.
This pass is valid only at the following Connecticut State Park locations until 12/31/22: Dinosaur, Fort Trumbull, and Gillette Castle State Parks.
This pass waives entrance fees for the building or museum for two adults and four children, 12 and under. This pass cannot be used for camping or special events.
For hours and directions to Connecticut State Parks & Forests visit:
http://www.ct.gov/deep/StateParks
For education programs: http://www.ct.gov/deep/Calendar
For a listing of State Parks: http://www.ct.gov/deep
Thanks go out to our Friends of the Preston Library, an organization which has purchased many of these passes for our patrons to use with their library card. There is no charge to use the passes; some provide a discount and some will allow free admission depending on the venue.