Friends of the Preston Public Library
Fall Book Sale:
Saturday October 21st 9:00 am to 4:00 pm;
Sunday October 22nd "Fill-A-Bag" 9:00 am to 1:00 pm

Silent Auction runs from Friday September 22nd to Sunday October 22nd
The Friends of the Preston Public Library are a great group of volunteers from the area who support the Library through book sales and other fundraising events! Twice a year they hold their popular book sale at the Library in addition to hosting fundraising events on Sundays throughout the year. This organization is a non-profit, grassroots membership group dedicated to promoting The Preston Public Library, a center of life-long learning in our community!
Funds raised by the Friends are used for activities and materials for the Library that are not covered by its budget. Recent support by the Friends included the purchase of a craft console for program supplies, funding summer learning programs, and purchase of museum passes for the Library.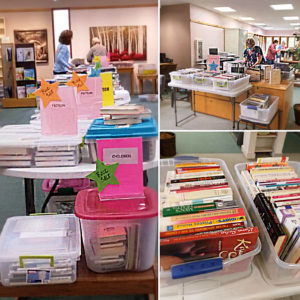 Membership is a great way to show your support for The Preston Public Library, help fund library programs and encourage learning in our community! The Friends fund programs such as lectures on local wildlife for the public, art classes for teens using recycled material, and STEM programs for youth during the summer. They also promote local attractions in the area through funding subscriptions to the Library's Museum Pass Service. Your membership dues and donations support the continuation of these and other programs. Join the Friends today! Become a new member or renew your current membership at the following levels:
| | |
| --- | --- |
| Senior Membership | $5.00 |
| Individual Membership | $10.00 |
| Business Membership | $25.00 |
| Lifetime Membership | $100.00 |
Memberships (other than Lifetime) are annual and are effective from July 1 to June 30. And your membership is tax deductible! Want to volunteer for library programs and special events? Have a question or a suggestion? Want to promote literacy in our community? Please e-mail us
prestonfol@gmail.com,
U.S mail at: Friends of the Preston Public Library, 389 Route 2, Preston, CT 06365 or drop a note at the library front desk for "Friends of the Library."
And thank you for becoming a friend!